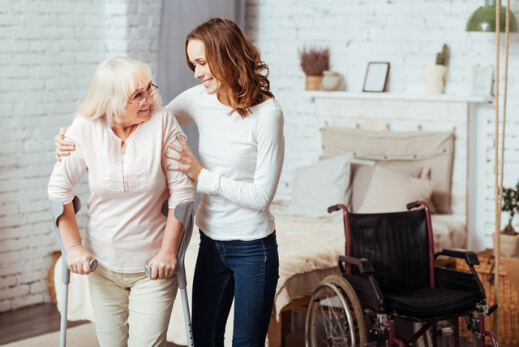 Among seniors, falls are a leading cause of injuries and hospital admissions. Preventing falls is a matter of life and death, so family members must take important actions to reduce the likelihood of falls at home.
As we age, the ability of our reflexes, senses, and coordination diminishes. Some of us take medications which can contribute to balance issues. Also, there are diseases that make us weaker than we used to be. If you have a senior in the family, Boundless Care, Inc. wants to provide the following steps to prevent senior falls at home:
Evaluate the Safety of Their Homes

Spend time walking through their home and find issues that could possibly lead to falls. Common situations that can increase their risk include the following:

Poorly lit rooms and hallways
Cluttered areas
A lack of durable handrails
Damaged flooring
Loose wires

Once you found these issues, make sure you get them fixed immediately.

Ensure Their Homes Are Well-Maintained

Clutter is a common thing among seniors. If you are available, work with your loved ones in getting their home more clutter-free. Help them determine items they do not need anymore and dispose of them by holding a garage sale or donating the items to charity. Ensure your loved ones have enough shelving units to help in minimizing clutter. Also, consider our Home Care Services in California that can include light housekeeping. Keeping things off of the floor and keeping the home clean can improve the safety of your seniors.

Consider Bathroom Modification

Seniors are at a higher risk of falls when using the bathroom. Bathrooms can be cramped and small with floors that tend to get wet. In fact, seniors who use the tub are also at risk of falling. Modifying the bathroom can really help in reducing your seniors' risk for falls. They can include installing handrails near the sink, by the toilet, as well as in and around the bathtub. Also, ensure the bathroom has enough lighting.

Invest in Home Care

Investing in home care for your senior loved ones can help in ensuring their safety. As a provider of Non-Medical Home Care in San Jose, California, we can be with them when you can't. You will enjoy the peace of mind knowing that somebody is with them on a daily basis, increasing their safety. Plus, our caregivers ensure your seniors enjoy socialization to prevent other health issues.

Encourage Your Seniors to Use Mobility Devices

Your seniors' health and mobility also contribute to their risk for falls. If your seniors have mobility issues, encourage the use of a cane. This device is designed to provide them comfort and convenience. There are other mobility assistance devices they can use. Just talk to their doctor for some recommendations. For Non-Emergency Transportation, we can provide the service.
Do you have other tips to give families with seniors at home? Please leave a comment below.